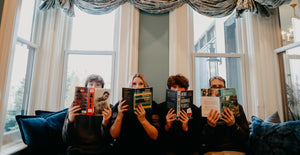 Our Story - Side Hustle to Full-Time business owners in a Pandemic Part-1
Our Story
The year, 2018. The world, everything was good! 1 Family, 2 incomes, living great. 
We've always tried to be somewhat self-employed since our twins were born in 2005. In 2006 we were running a small mortgage company at our house.  If you're old enough to have been working during that time, then you know the mortgage industry crashed. It crashed hard.  
Up until then everyone was living like nothing could go wrong. We were re- financing homes for other people, paying off their debt knowing they would be back in debt in many cases. But, for a minute they were happy. 
What we learned was home values always increase, but at some point, maybe a 150k house wasn't really worth 250k?  Anway, the long and short of that was, we lost what we had built.  Gone. Done. No bueno. Now it wasn't just us though, it was us and 2 babies. Nothing scarier than having someone serve you papers that your house was gone, knowing you have a family and very few options. 
Fast forward to 2018 after a long road of re-building. Elton, convinced after watching a video on burnt-wood photos, tried to then convince me to buy a machine that makes pictures burnt onto Baltic Birch wood.  Finally, I gave in and 3 weeks later a box showed up from the Ukraine ...   
Hang on for part 2! 
---